Our company has mainly performed the design and development of UNIX and Windows based operating application systems since establishment in 1997.
During the 21st century, the society and economy of Japan will see a big turning point. Many companies will improve old infrastructure and will tackle the current and future economic situations by creating suitable new infrastructure.
Moreover, in order to maintain the high expectations of the diversified client base, continue to offer a high level of customer service and a high level of customer satisfaction creating a new business model is of the utmost priority. We believe that an efficient and robust information system is essential for a company to meet these requirements.
As a professional in the system configuration of advanced technical systems, which are used for improving business capabilities. (Such as, maximizing the full potential of a client's current system and increasing their operating knowledge of these systems, while fully considering a client's economic needs and requirements.We peform consulting, system design, development, implementation and support of information systems for clients of the highest quality. We always treat client requests and needs with the utmost sincerity and working with the client to meet them is our company motto.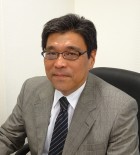 We offer information systems and services that will completely meet and satisfy client needs. Our aim is to work with the community and client for the mutual development and benefit of both.
Please come to us with any queries or comments. I look forward to working with you in the future.
Yumio Kamiyama.